Utility Options for 2016 Nissan Pickup Trucks
The Rio Grande Valley is well known for its agricultural contributions, like its delicious vegetables and citrus fruits, along with soft cotton. When it comes to harvesting these products and bringing them to market, you need a truck that will keep everything safe while doing the most for you. No pickups will do that better than the midsize 2016 Nissan Frontier and full size 2016 Nissan Titan XD with their utility features.
Engine Options:
152 horsepower 2.5L 4-cylinder DOHC
261 horsepower 4.0L V6 DOHC
*Maximum Towing Capacity:
3500 to 6500 pounds
**Maximum Payload Weight:
913 to 1,458 pounds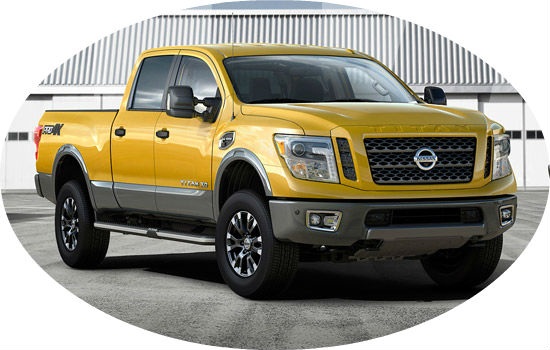 Engine Options:
390 horsepower 5.6L V8 DOHC
310 horsepower Cummins 5.0L V8 DOHC Turbo Diesel
*Maximum Towing Capacity:
11,200 to 12,300 pounds
**Maximum Payload Weight:
2,000 to 2,500 pounds
*Maximum towing capacity may vary due to engine, cab size, and drivetrain choices
**Maximum payload weight may vary due to engine, cab size, and drivetrain choices
Optional Utility Features Available for 2016 Nissan Titan XD and 2016 Nissan Frontier
The tough towing power and payload capacities of the Nissan pickup trucks are not the only components that make them awesome for harvesting Rio Grande Valley agricultural products! Several utility options are available to make these trucks do even more—and to protect that produce from damage! Some of these utility options include:
Sliding bed divider set
Sliding and non-sliding tool boxes
Bed liners
Sliding bed extenders
Tie-down cleats
Tow-hitch receivers
Bed tents
And much more!
Find Out If a Truck Cap or Tonneau Cover is Right for Your Nissan Truck!
Find Your Harvesting Truck at Charlie Clark Nissan!
If you want your harvest to be even more successful and need a new pickup truck to help you do it, stop by Charlie Clark Nissan in Harlingen and check out the 2016 Nissan Frontier and 2016 Nissan Titan XD today!