The "Charlie Clark" Story
Charlie Clark Nissan El Paso was founded by Charlie Clark, whom was raised in the McAllen area. Much of his childhood was spent with his nanny Mari Cruz Aurora Aguirre, to whom he refers to as his "Nana", meaning nanny in Spanish, a native of Montemorelos, Nuevo Leon, Mexico, whom had worked for 4 generations with the Clark family.
Charlie was born with the auto industry in his blood, stemming from his great grandfather who actually purchased his very first car dealership back in 1933. For this reason, Charlie's parents were very involved in the car business and would also have to often at times travel throughout the world, many times for business and others for pleasure, leaving Charlie to the care of his Nana. It was inevitable that as the years went by that Charlie would become strongly attached to his Nana and so would she.
Although Mrs. Aguirre was married to her husband Amado and had a daughter of their own, she would eventually love Charlie to the point where she would see him as her own son and he as a mother. Because Charlie spent a great deal of his time with his Nana and she would often care for him in her own home where her resources were limited and was where her mother also resided, in a purely Mexican neighborhood.
During his time at his Nana's house, Charlie would have first view exposure to many Mexican traditions, which he came to love. Traditions such as Mexican Christmas parties called "Posadas" during the holidays and cookouts on Saturdays in a local park across the border in Reynosa, which consisted of people grilling while playing traditional Mexican music.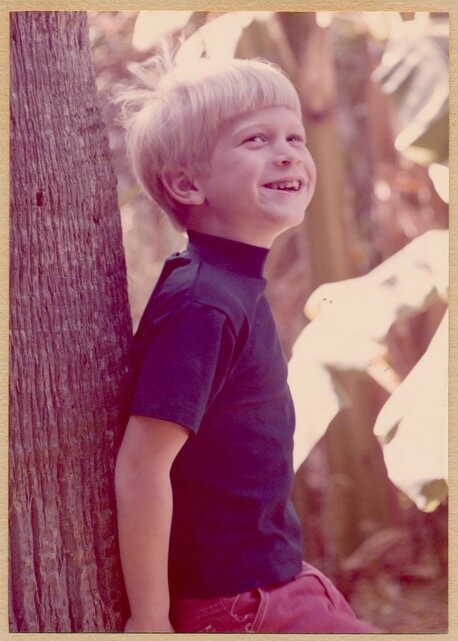 Charlie (age 5), McAllen, TX
These parties were known as "Carne Asadas" and Charlie enjoyed very much the environment he would see come to life during these cookouts. With these experiences over time, Charlie would eventually also learn to speak and write Spanish, allowing Charlie interact better with everyone and get even closer to the Mexican community.
Charlie attended San Marcos Academy, a Christian/ARMY JROTC boarding school located in San Marcos, Texas, where he would graduate from, obtaining his high school diploma. He was able to graduate as Cadet Lieutenant Coronel and Captain of the swim team for which he obtained an athletic scholarship. He would first attend college in Florida but would then return to his home state to attend Texas Christian University where would graduate with a communications degree. During his time in both colleges Charlie would maintain frequent communication with his Nana and would eagerly look forward to returning again to his hometown to be with her.
Upon graduation, however, Charlie immediately began to work in the car business selling cars for a successful large automotive group located in South Carolina, The Hendrick Auto Group, learning the business at its core, from the sales floor. He had preferred to earn his respect in the car business though self-effort and not by inheritance from his family.
During this time, he worked very closely with the Saturn brand, which at the time, was one of the brands with the highest customer service standards and practices, which would prove to be invaluable lessons for Charlie.
Charlie and Nana Back in the day
Charlie and Nana
After working for the Hendrick Auto Group for another two years, Charlie returned once again to his hometown after his Father had asked him to return home to help him turn around a dealership he had recently acquired. Charlie successfully increased profitability and sales volume over the course of several years where he also became the GM for the entire family business.
Charlie would feel it would be time for him to become an entrepreneur and take a risk and own his very own dealership. Charlie was able to establish a relationship with a local bank and in 2001 was able to purchase a failing Nissan dealership located in Harlingen, Texas, which at the time was one of the smallest Nissan dealerships in the country. During the time Charlie worked in his father's store in McAllen, he had noticed that Latinos struggled to communicate effectively, often at times speaking broken English.
Latinos account for over 80% of the population and for this same reason, Charlie began to speak to Latinos in Spanish and with which he immediately saw success. During his Leadership at his Father's store he was the first dealer in the nation to market to the Latino community, therefore, upon opening his own Nissan dealership in Harlingen, Charlie immediately continued these efforts. Charlie even incorporated his beloved Nana into his marketing campaigns, often at times using a tasteful comical impersonations of Hollywood movies such as Rocky, in which Charlie and Nana play boxer and trainer roles, mimicking Sylvester Stallone and his wife in the movie Rocky. Charlie Clark Nissan Harlingen would very quickly see success after immediately connecting with the Latino community and would never look back.
His frequent presence in the local community in numerous charitable events and media would eventually earn him the credit of a local celebrity, as over the years, Charlie would even eventually have multiple local TV shows often at times with his Nana sidekick by his side. To demonstrate his respect and appreciation to his Nana's upbringing, Charlie would also incorporate his Nana in his advertising campaigns having her tell Charlie that if he did not keep his promise with his customers, that she would give him "Pau Pau" symbolizing a spank, as a reference to when he would get a spank as a kid if he did not do what he was asked. This principle would prove to be golden as it would help Charlie gain popularity through these campaigns, where he came to be known as a dealer who does keep his word.
This growth would spearhead Charlie's presence in the car business, leading him to open additional numerous pre-owned car dealerships and even a second Nissan store, now in the city of Brownsville. The support from Nissan was to open this second store was a no brainer for the manufacturer given that Charlie Clark Nissan Harlingen had accomplished the #1 Nissan dealership spot in volume sales in the nation in 2011. By the end of 2012, Charlie Clark Nissan Brownsville too had tremendous success and had almost reached this same accomplishment falling just short of first place in the nation and instead placing second, however this time, not for just a month, however, for the entire 2012 year.
The response to each of his business had been overwhelmingly rewarding and throughout the years have helped Charlie obtain several recognitions in the car industry, including the prestigious award Nissan Global Award of Excellence on several occasions which is an award given by Nissan's International headquarters located in Japan recognizing the top 50 dealership in the entire world. Nissan saw how much the Rio Grande Valley was out performing El Paso, therefore they decided to award an "Open Point" for a dealer to open. After a lengthy selection process between almost all car dealers in the nation and some abroad, Charlie Clark Nissan was bestowed this great honor. Charlie Clark Nissan El Paso opened its doors to the people of the Sun City in 2017 with a state of the art 2.0 facility, which is Nissan's newest dealership layout, in the west side of El Paso being one of few of its kind in the entire country.
With the same commitment to the Latino community and the same story to tell of Charlie and his Nana, Charlie Clark quickly planted himself in the hearts of El Pasoans and began to see tremendous growth as his presence gained traction in the market. This growth and warm acceptance by the El Paso and surrounding New Mexico region led Charlie Clark Nissan El Paso to achieve a huge accomplishment in November of 2019, becoming the #1 Nissan dealership in volume sales in the entire United States.
Just like Charlie's other stores, Charlie Clark Nissan El Paso today has consistently reached the #1 spot in its respective market and all 3 stores sit within the top 50 Nissan dealerships in the country, among a total of nearly 1,500 dealerships.
This is an accomplishment that not many auto dealership owners can boast about and to which Charlie credits the work ethic learned from his family as well as the values and traditions taught to him by his Nana, whom now at the age of 96, frequently reminisces with Charlie. And just like in those memories of Charlie's childhood with his Nana at the park, Charlie has brought the same environment to each of his dealerships over the years, where lively music is played on a daily basis and every Saturday his employees cookout for their customers, taking him back to those Saturdays in Reynosa, where he never would have imagined then, the amount of motivation those experiences would someday mean to him and help him accomplish what he has done today. Unknowingly of what Charlie's marketing campaigns would one day bring to him, he would one day receive a call from Hollywood, expressing interest in producing a movie with him. This interest stemmed from the success that Charlie had in the valley in the early 2000's, more specifically a 30-minute show that would air weekly called Orale, Charlie! The show initially featured stories of Charlie and his Nana in which together would share experiences about Charlie as a kid and even once aired a trip they both took to Nana's hometown in Mexico. After a few seasons, Charlie revamped the show and incorporated The Green Ghost and MexiCan Show, which was a serial which used humor to address issues affecting the Latino community, such as crime, immigration and diabetes.
In the show, Charlie's Green Ghost character had a sidekick, MexiCan, whom was portly, and wore a red bodysuit with a penchant for banana-cream pie. Together, with the powers bestowed upon by Mrs. Aguirre, would set sail to conquer evil. In one episode, they rescued illegal immigrants held hostage by smugglers who brought them across the border. The call received from Hollywood expressed interest in turning this once local only show into a Hollywood movie, for which an agreement was reached and production kicked off. The movie will include a variety popular movies stars such as Danny Trejo, Kuno Becker, Professional Mixed Martial Arts fighter Cain Velazquez and Renee Victor(voice of Abuelita in Disney's-Pixar's film Coco) as Charlies' Nana, and of course Charlie himself. The movie is scheduled to be released in 2020 and was written by Charlie Clark and directed by Michael D. Olmos son of actor Edward James Olmos and David Rodriguez, brother of famous film maker Robert Rodriguez.