2020 Nissan Rogue Safety Rating
Shopping for a new compact crossover SUV that can offer you the protection you're looking for on the road just got a whole lot easier thanks to Nissan. The new 2020 Nissan Rogue takes passenger safety to the next level with 360 degrees of protection. With a long list of innovative and high-tech driver-assist safety features, the new 2020 Nissan Rogue offers the safety rating you're looking for in a new crossover. With incredible protection and a lengthy list of technology features and comfort options to choose from, the new 2020 Nissan Rogue has everything you want and need in a new versatile and capable crossover SUV. Keep reading to learn more about many of the safety features that are available in the 2020 Nissan Rogue that help give it a top safety rating for passenger protection.
[Model Research: 2020 Nissan Rogue]
2020 Nissan Rogue Safety Features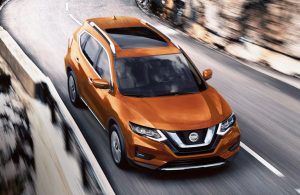 The new 2020 Nissan Rogue surrounds you with safety features that help keep you protected while driving. With a strong list of features and a top safety rating, you'll be able to drive your new 2020 Nissan Rogue with confidence. The lengthy list of advanced safety features available in the new 2020 Nissan Rogue includes blind spot warning, automatic emergency braking with pedestrian detection, lane departure warning, high beam assist, rear cross-traffic alert, and rear automatic braking. Other safety features include multiple airbag systems, intelligent forward collision warning, intelligent driver alertness, anti-lock brakes, vehicle dynamic control, a traction control system, electronic brake force distribution, and the LATCH seating system that lets you secure compatible child restraints in the back seat without a seat belt or locking clip.
[You May Also Like: What Technology Features are Available in the 2020 Nissan Rogue?]