Complete with a redesign for the new decade, the 2020 Nissan Sentra delivers a car-full of technology for today's demanding drivers. In-car entertainment and safety technology have all developed so much in the last few years, and where the Sentra may have been found wanting in the past, the redesigned Sentra is more equipped and ready for the modern driver's expectations.
2020 Nissan Sentra Entertainment Features
While the 2020 Nissan Sentra looks better than ever, that doesn't necessarily mean it drives better or even cuts it in the growing industry of in-car entertainment. The infotainment screen for the new Sentra is set in a small canopy, half-relieved from the dashboard for a more luxury sort of design. The screen is accompanied by a knob on either side and a row of buttons for more tactile control of your media. An available 8-speaker Bose® Premium brand sound system comes to the affair ready to play your streaming music, satellite radio, and call audio in immersive high quality.  
2020 Nissan Sentra Safety Features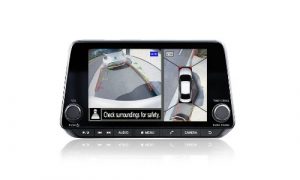 The 2020 Nissan Sentra was designed with safety in mind. The Nissan Safety Shield 360, a suite of sensors, cameras, and more work together to watch out where you can't, as well as adjust speed and lighting automatically. A backing camera and cross-traffic sensor alert you when it isn't safe to back up in a crowded parking lot. Blind-spot cameras check for other unseen vehicles while on the road. Emergency braking can help you stop the car when the flow of traffic changes suddenly, or you get caught off guard. The Nissan Safety Shield 360 is an excellent supplement for a cautious driver, but it should never replace common sense safe driving habits. 
---
2020 Nissan Sentra Redesign Changes
---
Test Drive the 2020 Nissan Sentra in McAllen, TX
After the January 2020 launch of the redesigned Nissan Sentra, come down to the Charlie Clark Nissan dealership in Harlingen, Texas and have a look. If you want to test drive the 2020 Nissan Sentra, contact us over the phone, online, or on the lot. Friendly salespeople are ready to talk to you about a new Nissan today!