Safety comes first. This lesson is taught to countless children every single year all over the world. From our earliest memories to our most recent wild night out on the town, we know that safety is always of the utmost importance. The truth in this statement becomes exponential when you're responsible not only for your wellbeing but also the wellbeing of your significant other and children. That said, when shopping for your next family car, safety really does come first. As our loyal customers already know, Nissan is known for providing all of its vehicles with top-notch safety features and systems, and the all-new 2018 Kicks is no exception. With all of that said, let's take a look at the 2018 Nissan Kicks driver assistance systems and safety features.

Read more: 2018 Nissan Kicks MSRP for each trim level
Nissan adds Intelligent Mobility to the all-new 2018 Kicks CUV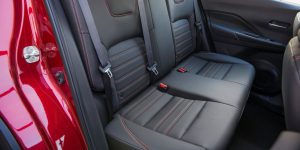 The base S trim of the 2018 Nissan Kicks comes equipped with seven airbags, a rearview monitor, and Automatic Emergency Braking with Forward Collision Warning. This is a safe and sturdy start, but that's just the beginning. The mid-range SV trim introduces two top-tier driver assistance systems, Blind Spot Warning and Rear Cross Traffic Alert.
Finally, at the top of the trim, Nissan adds a touch of Intelligent Mobility to the 2018 Kicks SR models by including the Intelligent Around View® Monitor. As you can see, all of the 2018 Nissan Kicks models will protect you and your loved ones, but—as one would—the higher the trim level the more assistance systems and safety features.
Read more: 2018 Nissan Kicks offers Apple CarPlay and Android Auto
We hope you've enjoyed learning more about the 2018 Nissan Kicks driver assistance systems and safety features. Can't wait for the Kicks to join our inventory? Neither can we! If you want to be one of our first customers to get behind the wheel of this all-new CUV, then schedule a test drive with us today!
We hope to hear from you soon!