Nissan never fails to give its customers great values across every segment. For SUV shoppers, the 2017 Rogue continues to satisfy and amaze. As for sedan shoppers, the 2017 Altima is known for stealing hearts and not wallets. Truck drivers, meanwhile, have been anxiously awaiting the 2018 Nissan Frontier configurations and pricing information. As much as they loved the other Nissan trucks, there's just nothing like a brand-new Frontier. Keep on reading to learn more!

Read more: Events, Festivals, and Activities for Halloween 2017 near Harlingen, Texas
What are the 2018 Nissan Frontier configurations?
Between the five trim levels—S, SV, PRO-4X, Desert Runner, and SL—a choice of King Cab and Crew Cab, 4×2 or 4×4 drivelines, three transmissions, and two engine options, there are 21 total configurations of the 2018 Nissan Frontier. Needless to say, there truly is a 2018 Frontier for anyone. More specifically, there are eight for the King Cab and 13 for the King Cab.
What are the engine options?
Available only in King Cab, potential customers can opt for a 2.5-liter inline 4-cylinder engine with 152 horsepower and 171 pound-feet of torque. Otherwise, the default engine is a 4.0-liter DOHC V6 monster packing 261 horsepower and 281 lb-ft of torque. Don't get too excited, this is just the beginning of what the 2018 Nissan Frontier has to offer.
Listed below are the Manufacturer's Suggested Retail Prices (MSRP) of the 2018 Nissan Frontier King Cab configurations.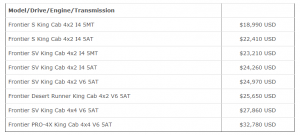 Listed below is the MSRP of each 2018 Nissan Frontier Crew Cab configuration.
Read more: How to Check Halloween Candy for Dangerous Items and Weapons
We hope this has satisfied your curiosity about the 2018 Nissan Frontier configurations and pricing information. To learn more about the 2018 Frontier, be sure to keep up with our latest blogs. While you're at it, feel free to schedule a test drive for one of the Nissan Frontier models in our inventory. There's no better way to experience this new truck than a test drive!
We hope to see you soon!