2016 Nissan Rogue Cargo Space and Specs
Are you planning a family adventure this summer? Few adventures will come close to hitting the open road with family, visiting your favorite Texas landmarks along the way. With that being said, it is important that you have a vehicle that is ready to make the trip and there are few models better equipped than the versatile, family-friendly 2016 Nissan Rogue. Equipped with a strong and efficient powertrain, the Nissan Rogue is a joy to drive and with an incredibly spacious cabin is equally as practical. Take a closer look at 2016 Nissan Rogue cargo space and specs to see how the compact crossover will be an asset on family adventures.
READ MORE: South Texas Summer Driving Safety and Health Tips
Nissan Rogue Cargo and Passenger Space Specs and Features
An asset of the 2016 Nissan Rogue design is a versatile interior. A majority of compact crossovers make room for five passengers — enough space for many families. What sets the Nissan Rogue apart from competitors is the ability to add third-row seating with a Family Package, upgrading the passenger capacity from five to seven passengers. Whether you have a larger family or you are in charge of the neighborhood carpool to football practice, the 2016 Nissan Rogue can be tailored to fit your needs.
Few crossovers have the capability to add a third row and make room for more passengers, and the Nissan Rogue complements this elite level of versatility with an impressive amount of cargo space. Standard Nissan Rogue models provide an exceptional 39.3 cubic feet of cargo space behind the second row. When you add the Family Package to the Nissan Rogue design, you will still have access to nine cubic feet of cargo space behind the third-row seats.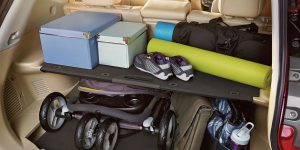 The versatile EZ Flex seating system features reclining, split-folding second-row seats, which will allow you to further customize the seating and cargo arrangements. When you need to haul even more cargo, you can lay the second-row seats flat and expand available cargo space to a cavernous 70 cubic feet. An added bonus of the Nissan Rogue interior is the innovative Divide-N-Hide® Cargo System, which allows you to store valuables below additional cargo for added discretion and space.
READ MORE: Official 2016 Nissan Sentra Fuel-Economy Ratings and Driving Distance
Are you looking for a new crossover that is tailor-made for family adventures? Look no further than the 2016 Nissan Rogue at Charlie Clark Nissan in South Texas. Armed with a better understanding of the 2016 Nissan Rogue cargo space and specs, it is easy to see how the Nissan compact crossover is an impressive option for on-the-go families. Stop in today to explore the Charlie Clark Nissan inventory and get behind the wheel of class-leading Nissan editions like the 2016 Nissan Sentra.